Click on a thumbnail to enlarge the picture
Big Bend National Park, TX, USA. September 1-3, 2007.

Big Bend national park is situated in the western part of Texas and we visited it together with my friends during the Labor Day holidays. This place is completely different from the Houston and southern Texas and resembles typical Wild West sceneries which we all know from the old western movies about cowboys and gangsters.


| | | |
| --- | --- | --- |
| Chisos Basin and Casa Grande | Chisos Basin | Road to Chisos Basin |
| | | |
| --- | --- | --- |
| Casa Grande | Casa Grande | Chisos mountains (northern rim) |
| | | |
| --- | --- | --- |
| | Southern rim of Chisos mountains | |
| | | |
| --- | --- | --- |
| | Paint Gap hills | |
| | | |
| --- | --- | --- |
| Northern rim of Chisos mountains | Boquillas Canyon | Boquillas Canyon |
| | | |
| --- | --- | --- |
| Lajitos town | Lajitos from the freeway | Lajitos |
| | |
| --- | --- |
| Lonely mountain | Local fauna |

Panorama of a dry river

Mountain road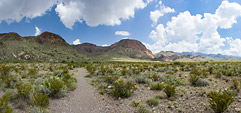 Trail to Paint Gap hills


Paint Gap hills

Santa Elena Canyon