Click on a thumbnail to enlarge the picture
Kiev, Ukraine. October 10, 2005.

Here are pictures from Kiev, the former capital of medieval Kievskaja Rus' state, cradle of modern Ukrainian, Russian and Belorussian states. We call it "the mother of Russian cities". It is also the holy place for all eastern Orthodox Christians due to numerous religious places. I was there only several hours on my way to Rostov, but I had managed to visit the most famous places in the city, including the Sofijsky Cathedral, Mikhailovsky Monastery, Independence Square, Kreschatik street and Holy Dormition Kiev-Pechersk Lavra, of course.

| | | |
| --- | --- | --- |
| Victory Monument | Hotel "Ukraine" and the Column of Independence | Monument of Bogdan Khmelnicky |
| Part of "original" Dormition Cathedral | Monument of the fallen soldiers in Afganistan | Memorial Park of Second World War |
| Church of the Holy Trinity | Church of All Saints | Main entrance at the Lavra |
| The Dnepr river | Modern part of the city | Kreschatik street |
| Mikhailovsky Monastery | Sofijsky Cathedral | Basilica in the Mikhailovsky Monastery |

Vladimirsky Cathedral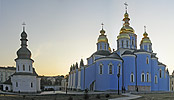 Mikhailovsky Monastery

Independence Square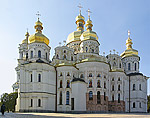 Dormition Cathedral

Dormition Cathedral

Kreschatik and the Independence Square